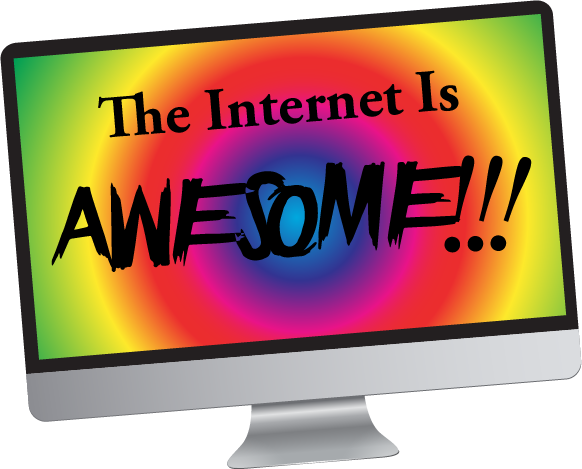 I finally made a logo for this thing! It's a bit garish, but it'll have to do until I have time to make something better. Probably in about 3 to 4 years. :p
Let's begin with a video from, literally the first YouTuber I ever subscribed to, Mystery Guitar Man! He has branched out into other endeavors far beyond the awesome musical videos he used to do way back when, but every once in a while he'll do a throwback to the good old days, and that's pretty much exactly what this video is.
Next we have a video from The Men Who Do Nothing, formerly from the YouTube Channel, Mr. Epic Man, of "How Animals Eat Their Food" fame. This is literally one of the dumbest videos ever, but that's what makes it so incredibly, stupidly funny.
Todrick Hall just did an amazing mashup of just about every Taylor Swift song you could think of. It's awesome.
ELO, a band you probably haven't heard of since the 70's, is releasing their first album since 2001, and the second since 1986! So it's probably a rather big deal for some people who have been around a lot longer than I have. Regardless, I love their music, and the first single from the new album sounds amazing.
I kind of hate to admit this, but Justin Bieber has been making some amazing music recently. >Choke!< I can't beliebe I just said that! I mean, it seems like he's been turning his life around recently, so is it okay to like him? Can I at least like his music? What if I like his music more when other people cover it? Because that's one of the best things about his recent string of great music, the fact that people even more talented than him will cover it. Like Pentatonix.
Speaking of covers, here's another one. This one is another(!) mashup of songs by Taylor Swift, covered by Peter and Evynne Hollens. These people are some of the most talented people on YouTube. I can't get over how awesome they are.
And speaking of amazing talent, (and acapella) Mike Tompkins can make a commissioned ad, and turn it into a work of art!
Let's end this with a video from Christopher Ballinger and his family. A parody of Mackleore's Downtown. You might know Chris better as the brother of Colleen Ballinger, AKA Miranda Sings, but he is very talented in his own right, and his kids are awesome.